CINDEA is a Canadian-based organization, which respects the wisdom of ancient death traditions and encourages the renewal of older death practices that are appropriate to our modern-day life. In the past, communities cared for their own dying folk — and creatively adapted, that is still an option available to us. CINDEA 's approach is one of a wide range of initiatives that are drawing our culture into a deeper relationship with nature and the cycles of life and death — the modern version of "a good death" for all involved in it.
We are committed to the unfolding development of the Pan-death Movement, including Death Midwifery (which largely parallels Birth Midwifery) and related death-care roles/practices. Clarifications of these roles, and what they are called, is in its infancy — therefore, we have offered definitions of several alternative death-care roles, and we support the networking of various kinds of end-of-life practitioners. Our site also provides comprehensive dying and death resources, both conventional and less well-known.
Throughout the site, you will see the word "pan-death" frequently used: it is our way of simply saying "across the whole of the spectrum of dying and death care" (before, during and after death).
We invite you to read through this site and hope that you will find what you are looking for. We welcome your questions, feedback and participation in refining and promoting this significant mission at contact us.

Further clarification of the CINDEA site as a whole can be found at our site map, which includes full headings of each pages' sections. Pages on Post-death Care/Home Funerals and Greening Death are planned for the near future.
A quick summary of the CINDEA site is always available on the left menu or through the site map,
or you can search this site for any word or phrase.
CINDEA itself
Home Organization of CINDEA Site Map Search this Site Contact us
Pan-Death and Alternatives
Pan-death Movement Death Midwifery CINDEA recognition
Preparation for End-of-Life (EOL)
Advance Care Planning Post-death Care and Home Funerals Greening Death
Resource Information and Links (including legal paperwork for each province/territory)

Resources in Canada — Pre-death Resources in Canada — Post-death
Resources Elsewhere (U.S.A, U.K, etc.) Resources — Books, Movies, & Documentaries

To contact us or be added to our mailing list
Contact us

The second "By My Own Heart and Hand —
basics in home funerals" workshop
Saltspring Island, January 23/24, 2014
Contact us for further information or to register — the workshop will be limited to 13 participants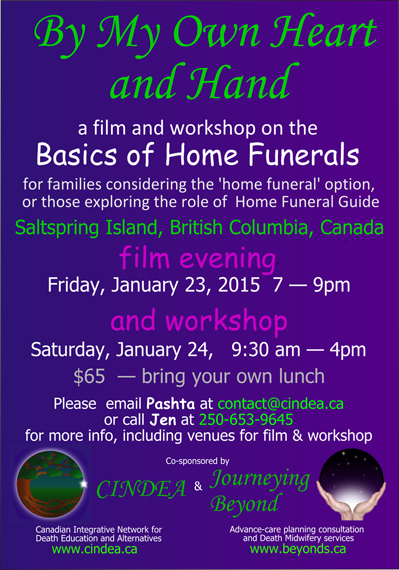 "By My Own Heart and Hand —
basics in home funerals" workshop

CINDEA and Journeying Beyond co-sponsored a "By My Own Heart and Hand — basics in home funerals" workshop that took place in Vancouver and Surrey BC on September 13-14, 2014. The event included an evening showing of "A Family Undertaking" and discussion, and a full-day workshop the next day — which included 'hands on' practice in post-death care, and a review of both the required paperwork and the general timeline of 'what is done when'.


Washing the Body





Preparing to Move the Body using only a Bedsheet

This introductory workshop is primarily intended to help families in preparing for, and planning, a home funeral. However, it was also an opportunity for other alternative death-care practitioners to better understand the basics of a home funeral, as it might relate to the experience of their future clients — as well as being the practicum for two BC Beyond Hospice students. Many thanks to the evolving BC lower-mainland community for helping to organize this workshop. Further workshops are being planned.

CINDEA 's "Post-death Care At Home" video series
CINDEA now has a series of 5 short separate"Post-death Care At Home" videos on our Post-Death Care and Home Funerals page — including Moving the body; Washing the hair, face and mouth; Washing the body; Dressing the body, and Closing the eyes and mouth; and Moving the body into casket, or Shrouding the body. We also have an updated PDF on Post-death Physical Care (available for download just below the video thumbnails) — which includes detailed step-by-step instructions on 'how to', as well as a list of supplies required.
These videos and instructions — as well as the General Timeline PDF (including legal paperwork required) — are intended to support families/friends in caring for their own loved ones at home after death.

CINDEA is now listed on the Canadian Virtual Hospice website under "Books, Links, and More", then "Death and Dying", then "Online Resources", with this text:
Canadian Integrative Network for Death Education and Alternatives (CINDEA)

Url: http://www.cindea.ca/ Year: 2013
Description: CINDEA provides education and resources throughout the 'Pan-death' process (before, during, after death). Information about death midwifery, advance care planning, greening death, post death care and funeral homes is provided.

Post-Death Care at Home as Extended Caregiving, written by the co-directors of CINDEA for the Caregiving Matters website — see "Caregiver News", under the categories "Financial & Legal", "Funeral Planning", "Grief & Loss", or "Remembering".

"DIY Funeral Care: Family-directed Post-death Care and Funerals (often called 'home funerals')", written by the co-directors of CINDEA for the Canadian Funerals Online website.

The field of alternative, wholistic death care is still very new in Canada, and its terminology is still evolving. Here are two articles on the eHospice website which offer differing opinions:
"Defining the Role of the Death Midwife", written by the co-directors of CINDEA.
"What is Death Midwifery", written by Cassandra Yonder.


Death Midwifery in Canada is a podcast interview with Pashta MaryMoon, by Lynn Thompson, the radio host of "Living on Purpose" (web link).

CINDEA (Canadian Integrative Network for Death Education and Alternatives) has been created to:
| | | |
| --- | --- | --- |
| | | provide information and educational resources, focused on a broad spectrum of options throughout the pan-death process (before, during and after death), |
| | | promote pan-death options that are more natural, personalized and/or ecologically-responsible, |
| | | support the networking of those who offer related services in Canada, and |
| | | encourage the acceptance of death as a natural part of the cycle of life, |


in order to integrate all of the facets of the pan-death process.


CINDEA's purpose is to:
| | | |
| --- | --- | --- |
| | | support the modern movement to re-integrate death into the 'cycle of life' in a healthy way within our culture |
| | | inform the public of existing options for the pan-death process that they may not be aware of |
| | | encourage the expansion of pan-death options which are less institutionalized and more personalized to the values of the Death Journeyer and their family |
| | | support all the required elements of 'dying at home' (including at-home after-death care), as well as encourage care facilities to make more personalized options available within their facility |
| | | encourage the integration of services available before, during and after death |
| | | support the developing movement of Death Midwives, and establish a process to recognize Death Midwives who offering pan-death services in Canada — as well as other alternated service providers who offer more specialized services within the pan-death process |
| | | encouraging the networking of pan-death service providers, and public accessibility to them |
| | | support options for natural death, Green Burials, and other ecologically-conscious 'end of life' practices. |



Mailing List for CINDEA Updates

If you wish to be put on our mailing list for occasional updates on CINDEA' s development, or notification of workshops and presentations, please contact us. Updates go out once per season.

If you no longer wish to receive these updates, please let us know and we will remove you from the list.
Be assured that we will not share your contact information with anyone without your permission.
CINDEA is now on Facebook — with updates as they happen.

Our thanks to Skeena web services for hosting this site.

We also acknowledge the use of GRsites programs and backgrounds.