CINDEA is a Canadian-based organization, which respects the wisdom of ancient death traditions and encourages the renewal of older death practices that are appropriate to our modern-day life. In the past, communities cared for their own dying folk; and creatively adapted, that approach to death is still an option available to us. CINDEA 's perspective is one of a wide range of initiatives that are drawing our culture into a deeper relationship with nature and the cycles of life and death — the modern version of "a good death" for all involved in it.
We are committed to the unfolding development of the wholistic pan-death movement, including the roles and practices of alternative deathcare. Clarification of these roles, and what they are called, is in its infancy — therefore, we have offered definitions of several alternative deathcare roles, and we support the networking of various kinds of end-of-life practitioners. Our site also provides comprehensive dying and death resources — some conventional, though mostly focused on those that are less well-known.
Throughout the site, you will see the word "pan-death" frequently used: it is our way of simply saying "across the whole of the spectrum of dying and death care" (before, during and after death). The acronym DWENA (Death-care, Wholistic, Ecological, and/or Natural Alternatives) is the umbrella term we use for all practitioners offering services at any part of the pan-death journey.
We invite you to read through this site and hope that you will find what you are looking for. We welcome your questions, feedback and participation in refining and promoting this significant mission — contact us.
Disclaimer: The role and practices of death midwives are frequently referred to on this website. Death midwives are not conventional midwives (who deal with birthing) or health professionals, nor are they registered with any of the Colleges of Midwives in Canada.
Be safe, CINDEA is open for all calls or emails
All blessings!

Changes to the Society Act now allows us to accept general members of CINDEA, and we welcome you to contact us about becoming a general member. Membership is $20 per year. We welcome those who are generally interested, as well as DWENA practitioners.

Further clarification of the CINDEA site as a whole can be found at our site map, which includes full headings of each pages' sections. A futher page on Greening Death is planned for the near future.
A quick summary of the CINDEA site is always available on the left menu or through the site map,
or you can search this site for any word or phrase.
CINDEA itself
Home Organization of CINDEA Site Map Search this Site Contact us
Pan-Death and Alternatives
Pan-death Movement Death Midwifery
Preparation for End-of-Life (EOL)
Advance Care Planning Post-death Care and Home Funerals Greening Death
Resource Information and Links (including required legal paperwork for each province/territory)

Resources in Canada — Pre-death Resources in Canada — Post-death
Resources Elsewhere (U.S.A, U.K, etc.) Resources — Books, Movies, & Documentaries

To contact us or be added to our mailing list
Contact us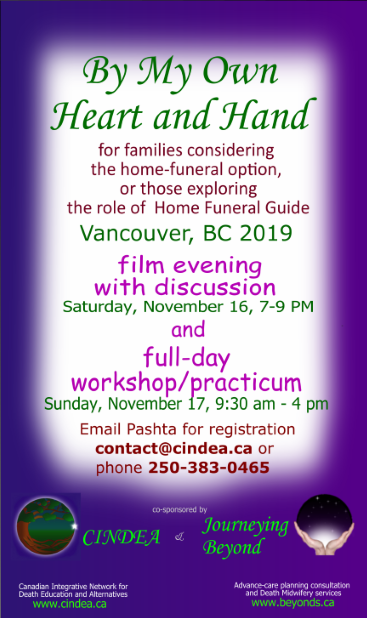 What's in a Name?
Help make 'death midwife' a permitted term in Canada
Reclaiming the ancient dual role of a midwife - attending both births and deaths
GoFundMe campaign to raise the funds for the lawyer and court cost

Update: I won the court case, and the judge struck down the piece of legislation used against me (HPA 12.1 (1) as unconstitutional.
However, the ruling is now being appealed by the BC Attorney General — so more work and expenses.


The Problem
This dual role of midwives lasted till the early 20th century, when midwifery almost disappeared. Then later in that century both parts of the dual role were revived separately.

After the Canadian Broadcasting Corporation aired a series of interviews on "DIY Funerals" in 2016, Pashta MaryMoon and other Canadian 'death midwives' received 'cease and desist' letters threatening legal action and forbidding use of the term 'death midwife' — in Pashta's case, coming from the College of Midwives of British Columbia (CMBC) and the Canadian Midwifery Regulatory Council (CMRC).

Most of the Canadian death midwives chose to comply, for personal or professional reasons. Pashta decided that she couldn't in good faith obey this request. Now the CMBC is going to court to get an injunction to stop her from using the word "midwife" or any variation. Though it seems unlikely to happen, the petition for the injunction also made a mention of the possibility of jail time. Nevertheless, she felt a personal obligation to fight the injunction in court.
Although some of her work is for pay, a great deal of Pashta's time and energy goes into pro bono death-midwifery work, including education and running CINDEA. She has found an enthusiastic lawyer who is willing to do the legal work for a reduced fee, however he is not able to do it for free.
The Nitty-Gritty Details (skip this part if you wish)
Historical evidence shows that for thousands of years, the role of a midwife — whether or not the word 'midwife' was used — included deathcare. In the late 19th and early 20th century, this dual role was split between the domain of obstetrics and the funeral industry. Birth midwifery was revived in the mid-to-late 20th century, with death midwifery following about two decades later.
According to the letter of the law, in BC and most other provinces, the word 'midwife' itself is a reserved title to be used exclusively by birth midwives who are registered with their provincial college. The legislation makes it clear that it was only intended to govern birth midwives; and there is no reference whatsoever in the law to death midwives, although this role and its name were beginning to be reclaimed before the legislation was passed.
The CMBC has claimed that the public might be confused between birth and death midwives, and could mistakenly assume that death midwives are 'professionals with membership in a regulatory body' (specifically the CMBC). They were concerned that either of these perceptions would present a 'danger to the public safety' — however, they have since removed these claims from their petition, presumably because there is no evidence of either situation happening.
The obvious solution, used by many other health professionals, is to add a qualifier — such as 'registered', 'licensed' or 'certified' midwife — since the average person recognizes these qualifiers as ones that indicate the person is 'a professional within a regulatory body.' This distinction would contribute to the public safety (in particular, pregnant mothers) more than the present reserved-title status could.

In the long run, the most important issue is not that practitioners be allowed to use the term "death midwife" for themselves, but that there is a recognizable term for the public to find alternative deathcare options.
Pashta's Appeal - Support the Right to Use the Term 'Death Midwife'
I'm seeking your help with my court challenge that will include two main requests:
1. Addressing the unreasonable limits made on the use of 'midwife', as being arbitrary and overly broad in scope. My lawyer and I believe this is an issue of 'freedom of expression' as defined in the Canadian Charter of Rights and Freedoms — and yes, this is a Charter challenge.
2. An exemption to the Midwives Regulation which presently excludes the use of the term 'death midwives' — such as existing exemptions for systems engineers, who do not fall under the reserved title of "professional engineer".
Your donations will help to pay the lawyer and other legal fees, as well as any associated travel costs.
GoFundMe campaign to raise the funds for the lawyer and court cost
see also the Death Midwifery page on CINDEA or Pashta's personal website Journeying Beyond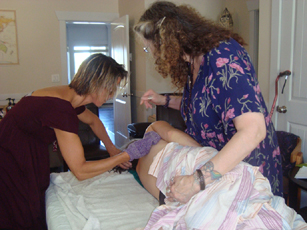 4Ds
(Documentaries and Discussion on Dying and Death)
Films from the Parlour — Documentaries and Discussion on Dying and Death — once a month in Victoria, B.C. — contact us for film, date and location
Soul Passages Film Presentation & Discussions — periodically in Calgary, Alberta — contact Sarah for film, date and location
Die-ologies — Film Presentation & Discussions — periodically in Warkworth or Cobourg, Ontario — contact Barb via her website for dates and locations for films and discussion nights
The Final Curtain Films — Film & Discussion — first Mondays of the month in Halifax, Nova Scotia — see Death Matters for more information

CBC radio and article series "DIY Funerals: Rite at home'
Two BC CINDEA practitioners, and other DWENA practitioners and family members, were interviewed in a CBC series — the first article is "Death midwives offer a 'more authentic' funeral experience"
Further related articles:
B.C. College of Midwives demands 'death midwives' stop using title
[Note: some people who got copies of this letter have chosen to comply: at the moment, CINDEA is choosing to negotiate our continued use of the term.]
Death doulas guide families through difficult transitions
DIY funerals: How to do it 'rite' at home
DIY funerals: caring for dead bodies reduces stigma of death for the living
DIY Funerals: unique choir sings for the dying, the dead and the mourning

Canadian Press article goes viral
Death midwives and workshops on how to handle a corpse: DIY funerals bring back 'ancient' process
Proponents of the burgeoning home funeral industry say it's a cheaper, more intimate experience that can help loved ones with their grief. There are multiple titles and copies of this article — National Post version




Discussing "A Family Undertaking"





Brushing teeth



Closing eyes and mouth

"By My Own Heart and Hand"
basics in home funerals workshop

CINDEA and Journeying Beyond co-sponsored the second Victoria, BC
"By My Own Heart and Hand — basics in home funerals" workshop that took place on September 30 and October 1, 2016. The event included an evening showing of "A Family Undertaking" and discussion, and a full-day workshop the next day — which included 'hands on' practice in post-death care, and a review of both the required paperwork and the general timeline of 'what is done when'.

This introductory workshop is primarily intended to help families in preparing for, and planning, a home funeral. However, it is also an opportunity for alternative death-care practitioners to better understand the basics of a home funeral, as it might relate to the experience of their future clients — as well as being the practicum for Beyond Hospice and other students.

Further workshops are being planned for the west coast, but also available via Skype in other areas of Canada — please contact us if you are interested in arranging a workshop.


Rolling body onto stretcher using sheet




Placing Techni-ice to cool body


Maneuvering casket through hallways

CINDEA 's "Post-death Care At Home" video series
CINDEA has a series of 5 short separate"Post-death Care At Home" videos on our Post-Death Care and Home Funerals page — including Moving the body; Washing the hair, face and mouth; Washing the body; Dressing the body, and Closing the eyes and mouth; and Moving the body into casket, or Shrouding the body. We also have an updated PDF on Post-death Physical Care (available for download just below the video thumbnails) — which includes detailed step-by-step instructions on 'how to', as well as a list of supplies required.
These videos and instructions — as well as the General Timeline PDF (including legal paperwork required) — are intended to support families/friends in caring for their own loved ones at home after death.

Seven Ponds (embracing the end-of-life experience) interview with Pashta MaryMoon, by Juniper Quin — Why is Death Midwifery Important?
Part I , Part II and Part III

Vital Conversations: Dialogues on Living and Dying webinar replay Dialogue with Kim Adams and Pashta MaryMoon on What is the Pan Death Continuum and Why is it Important? This YouTube version (a second interview) had some technical difficulties. You can request notices on upcoming webinars through Vital Conversations: Dialogues on Living and Dying Well.

Post-Death Care at Home as Extended Caregiving, written by the co-directors of CINDEA for the Caregiving Matters website — see "Caregiver News", under the categories "Financial & Legal", "Funeral Planning", "Grief & Loss", or "Remembering".

"DIY Funeral Care: Family-directed Post-death Care and Funerals (often called 'home funerals')", written by the co-directors of CINDEA for the Canadian Funerals Online website.

The field of alternative, wholistic death care is still very new in Canada, and its terminology is still evolving. Here are two articles on the eHospice website which offer differing opinions:
"Defining the Role of the Death Midwife", written by the co-directors of CINDEA.
"What is Death Midwifery", written by Cassandra Yonder.


Death Midwifery in Canada is a podcast interview with Pashta MaryMoon, by Lynn Thompson, the radio host of "Living on Purpose" (web link).


Recent Canadian news
"Death Becomes Us" — three-part series by CBC Ideas radio show (2014-5) — new approaches to death, including home funerals, green burials, etc. Part 1, Part 2 and Part 3 (almost an hour each)

Canadian Virtual Hospice has two new articles on home funerals and at-home deathcare, both mentioning CINDEA as a resource — How to Plan a Home Funeral and Final Days of Care of the Body After Death — July 15, 2015
Olga Nikolajev, Death Educator with Dying Matters, Normalizing death and dying. Dying Matters public talk #1 — 51 minute video, and the 30 minute Question and Answer video.

Urban Death Project: A case for composting your dead body: CBC News — Several weeks after bringing the body to be composted at an Urban Death Project facility, the mourners would return to collect some of the resulting soil 'to grow a memorial garden or plant a tree.' — May 04, 2015

Westwood's funeral services given the OK: George Westwood is allowed to continue his volunteer funeral services to Haida Gwaii — permission from BDC Consumer Protection, after they threatened him with charges — May 19, 2015
How death midwives are changing end-of-life care: CBC1 radio Day 6 interview — April 25, 2015 — transcribed version
The rise of the death doula: Counselling, forgiveness rituals, at-home funerals — death midwives provide end-of-life spiritual care for the secular [Macleans magazine] — March 15, 2015
A Soft Goodbye [Alberta] How a death midwife helped the author and her family grieve the loss of a cherished relative — February 23, 2015
'It Takes a Village to Die Well' [Alberta] Death midwife seeks to reclaim death as relational, 'soul' experience — January 15, 2015
'Death doula' session and more at Surrey Skill Share Fair in Surray, BC — October 2014


CINDEA (Canadian Integrative Network for Death Education and Alternatives) has been created to:
| | | |
| --- | --- | --- |
| | | provide information and educational resources, focused on a broad spectrum of options throughout the pan-death process (before, during and after death), |
| | | promote pan-death options that are more natural, personalized and/or ecologically-responsible, |
| | | support the networking of those who offer related services in Canada, and |
| | | encourage the acceptance of death as a natural part of the cycle of life, |


in order to integrate all of the facets of the pan-death process.


CINDEA's purpose is to:
| | | |
| --- | --- | --- |
| | | support the modern movement to re-integrate death into the 'cycle of life' in a healthy way within our culture |
| | | inform the public of existing options for the pan-death process that they may not be aware of |
| | | encourage the expansion of pan-death options which are less institutionalized and more personalized to the values of the death journeyer and their family |
| | | support all the required elements of 'dying at home' (including at-home after-death care), as well as encourage care facilities to make more personalized options available within their facility |
| | | encourage the integration of services available before, during and after death |
| | | support the developing movement of death midwives, and establish a process to recognize death midwives who offer pan-death services in Canada — as well as other alternative service providers who offer more specialized services within the pan-death process |
| | | encouraging the networking of pan-death service providers, and public accessibility to them |
| | | support options for natural death, green burials, and other ecologically-conscious 'end of life' practices. |



Mailing List for CINDEA Updates

If you wish to be put on our mailing list for occasional updates on CINDEA' s development, or notification of workshops and presentations, please contact us. Updates go out once per season.

If you no longer wish to receive these updates, please let us know and we will remove you from the list.
Be assured that we will not share your contact information with anyone without your permission.
CINDEA is now on Facebook — with updates as they happen.

Our thanks to Skeena web services for hosting this site.

We also acknowledge the use of GRsites programs and backgrounds.